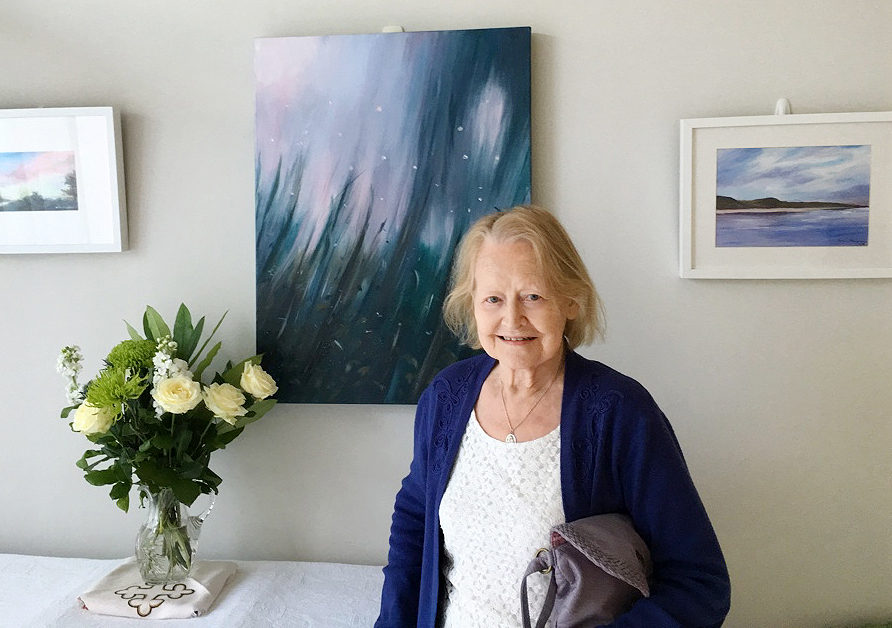 Helen Mulkerns, born on 7 November 1934, died in Dublin on 26 December, 2020.
She was an artist who grew up and lived in Dublin. She was a founder member of the now legendary "Merrion Square Group" of artists who took a page from Parisian artists in the early 1980s and set up an outdoor gallery along the railings of Merrion Square opposite the National Gallery as an alternative to depending on established gallery spaces.
She studied at Dun Laoghaire College of Art, in the Attic Studio, New York, and has completed several workshops with contemporary artists. She has shown her work in major Irish exhibitions such as The Oireachtas, and the United Arts club. She has also participated in exhibitions in New York and Dallas. For many years, she specialised in Dublin streetscapes – painted in inks and watercolours, and Connemara landscapes in oils, watercolours and acrylics.

 She has completed commissions for the Bank Of Ireland, Holles Street Hospital, St. John of God Hospital, Bórd na Mona and Consultants in Public Affairs.
As a young woman, Helen was an aspiring actress and what was once known as a "petite" model. She married press photographer and newsreel cameraman Jim Mulkerns, who went on to become one of Ireland's first independent film makers. The couple had two children and in the late sixties Helen joined her husband as a production manager on some of his short films, while developing her own creative work; that of painting. She worked in watercolours and oils, later taking up acrylic paint due to arthritis, which affected her hands. In her last years, Helen continued to paint on a daily basis, always enjoying the work, and some of her final pieces can be seen here.
Following her death, a limited number of her works are now for sale – click HERE for details. While Helen died peacefully in hospital before the main strike of the current pandemic, proceeds from this posthumous selection of paintings will go towards a special family fund created as a result of the Covid 19 lockdown.
To contact the family regarding sales click here or phone 086-20-20-289